Matthew Bauer
Executive Chef
Destination Kohler
Chef Matt Bauer was born and raised in the Village of Kohler, Wisconsin. Matt developed his love and passion for cooking at a very young age. He gained inspiration and developed his palette while tasting, eating, and watching his mom and dad cook family dinners, as well as, other meals throughout childhood.
Matt started in the industry at age 15 as a dishwasher at Cucina, the Italian restaurant of Destination Kohler. He worked through the ranks of that kitchen to become a lead cook by the time he graduated from high school in 2002. A colleague at Cucina was a former graduate of the California Culinary Academy and encouraged Matt to apply.
During his schooling in California, Matt completed an externship at a private restaurant in Honolulu, Hawaii called 3660 On the Rise. There he learned about Pacific Rim cuisine and a true appreciation for fresh and raw seafood.
After his stint in Hawaii, Matt traveled back home to Kohler and took a position at The Immigrant Restaurant & Winery Bar. He worked under talented mentors for eight years before becoming the head chef of the restaurant in April 2011. With the goal to make The Immigrant Restaurant one of the top dining destinations in the Midwest, Matt utilized seasonal and fresh ingredients from all over the country and featured contemporary, global cuisine.
In 2013, Matt took on additional responsibility and accepted the role of Chef/Restaurant Manager for the Immigrant Restaurant. In this role, he focused on continuous improvement and maintaining five-star service standards in the Immigrant Restaurant and Winery Bar.
In February 2015, Matt was promoted to the Food and Beverage Manager at The American Club. He was responsible for overseeing the Immigrant Restaurant, Wisconsin Room, Horse & Plow, Greenhouse, and In-Room Dining at The American Club Hotel. In this role, he looked to maintain and develop all parts of the team to keep striving for innovation and excellence.
Matt played a huge role in the development and execution of the food and beverage services at the newest hotel offering, Lodge Kohler, in Green Bay, WI. Lodge Kohler offers premier dining on the top level of the hotel at Taverne in the Sky – overlooking the legendary Lambeau Field – and main level café, Leaps & Bounds.
Following the opening of Lodge Kohler in 2017, Matt became the Executive Chef of Destination Kohler, overseeing all kitchens and back of house areas across the resort.
At Destination Kohler, the mission of contributing to a higher level of gracious living for those who are touched by our products and services lives strong and is ingrained in its people.




Nicolas Blouin
Executive Pastry Chef
Destination Kohler
Raised in Toulouse, France, Chef Blouin began his pastry training when he was only 15 years old at a small bakery in his home town. He trained at the Pastry School of Muret and completed apprenticeships specializing in pastry and chocolate confections.
Chef Blouin moved to America and worked at the Walt Disney World Swan and Dolphin resort hotel under two-time world champion pastry chef Laurent Branlard. Eager to expand his knowledge, Chef Blouin returned to Europe and worked at Michelin-starred restaurants Le Richelieu in France and Didier de Courten in Switzerland.
In 2006 Chef Blouin returned to America to work at the Bellagio in Las Vegas under renowned Chef Jean-Philippe Maury. He served as a pastry chef at the Aria Resort & Casino, where he managed two locations of the Jean-Philippe Pâtisseries. In 2011 Chef Blouin joined Rosewood Mansion on Turtle Creek in the role of pastry chef. In August 2017, he joined Kohler Co. as Head Pastry Chef for Destination Kohler.
With a passion for simple, strong and classic flavors, Chef Blouin strives to create desserts that encourage guests to explore exciting and unique new culinary delights. Featuring whimsical presentations, ingredients of the highest quality and bold colors, his creations offer unforgettable flavors ranging from light to decadent. His many popular desserts, including reimagined cheesecakes and soufflés, showcase his modern interpretation of classic desserts. In 2015 he won first place at the renowned Valrhona C3 Pastry Competition in New York, earning him the opportunity to represent North America in the International Chefs Congress.
"Creativity and invention are my favorite parts of the pastry industry," said Chef Blouin. "Creating a dessert that is unique and that guests truly enjoy is the art of pastry at its best," said Chef Blouin.
Chef Blouin continues to follow global pastry trends and French pastry chefs, including culinary icons Pierre Hermé and Christophe Michalak, who have had a profound influence on him both professionally and personally. Visionary creativity drives Chef Blouin to construct adventurous and delectable desserts for his guests at Destination Kohler.

Leonard Sorce
Head Chef
The Immigrant Restaurant
Chef Sorce has spent nearly three decades creating unforgettable gastronomic experiences for guests at private homes, special events, and restaurants. He served as private chef for the Norwegian ambassador to Germany, providing daily fine dining for the ambassador and his family in Bonn and Berlin and preparing meals for heads of states, politicians, and celebrities. Chef Sorce also spent two years as the private chef for the owner of Victor International, serving meals to the family, guests, and yacht staff at a private island estate in Lake Michigan and aboard a 130-foot yacht in the British Virgin Islands.
For six years, he was the executive chef of Riverbend, the historic members-only mansion in Kohler. Chef Sorce also worked as executive chef and pastry chef of Oil Nut Bay at Virgin Gorda in the British Virgin Islands, which was awarded Best Restaurant in the BVI by Forbes. At this luxury, 300-acre residential/resort property, he created numerous special events for discerning guests including preparing owners' dinners for major sailing regattas: the Loro PIanan Caribbean Super Yacht Regatta & Rendezvous and the Rolex Swan Cup.
Chef Sorce has worked at the 2016 U.S. Open Golf Tournament at Oakmont Country Club in Pennsylvania, done chef demonstrations for House Beautiful in New York City, and – alongside other Destination Kohler chefs – prepared two dinners at The James Beard House. He enjoys preparing and serving meals in both casual and formal settings.



Lucas Oppeneer
Head Chef
Destination Kohler Special Events
A graduate of the American Culinary Federation Apprenticeship Program, Chef Oppeneer has 17 years of culinary experience. He has worked in every Kohler restaurant, including The Immigrant Restaurant, Cucina, The Wisconsin Room and the Horse & Plow, and has been involved in Kohler Food & Wine Experience event each year.
During his five years at The Immigrant Restaurant, he was part of the team that moved the restaurant from a three-star rating to four-star status. While head of the culinary team at the Horse & Plow, Chef Oppeneer developed a new menu for the remodeled restaurant featuring innovative pub fare with an emphasis on fresh ingredients. He oversaw events for the 2015 PGA Championship, Kohler Festival of Beer and the 2015 and 2016 Wisconsin Sports Awards events.
Chef Oppeneer left the American Club in June 2016 to lead food and beverage operations for Holy Family Memorial Hospital in Manitowoc where he improved patient and employee dining with healthy, fresh, local produce and also lead the community health goals team to promote healthy eating/nutrition and exercise. Chef Oppeneer rejoined Destination Kohler in September 2017 as Special Events Chef just in time to lead the team through this year's Kohler Food & Wine Experience.

Paul Smitala
Head Chef / Restaurant Manager
Blackwolf Run® Restaurant
For more than a decade, Chef Paul Smitala has offered his culinary expertise to The American Club® Resort, one of only 36 hotels in the world to be both Forbes Five-Star and AAA Five Diamond. A Midwest native, Chef Smitala received his degree in hotel and restaurant management at the University of Wisconsin-Stout. After graduating with honors from The Culinary Institute of America, he joined The American Club Resort in 1996 as a banquet chef. In his tenure, Chef Smitala designed new banquet menus and dishes for groups of up to 800, serving creative dishes with only the freshest ingredients. In 1998, Chef Smitala joined the kitchen at Blackwolf Run Golf Course as head chef.
Chef Smitala has been involved in creating culinary masterpieces for numerous large-scale events including the 1998 U.S. Women's Open, the 2004 PGA Championship, 2007 U.S. Senior Open, the 2010 PGA Championship, 2010 Champions Toast at Augusta and the 2012 U.S. Women's Open. He has also had the honor of cooking at the James Beard House twice in New York City, and he serves as a national spokesperson for the Kitchens of Kohler.
In 2008, Chef Smitala received the Chef of the Year Salute to Excellence Award from the Wisconsin Restaurant Association, and in 2009 he earned the Milwaukee Area Technical College Civic Apprenticeship Award for his work in mentoring culinary students. Under Chef Smitala's leadership, Blackwolf Run has been honored with the Wine Spectator Award of Excellence since 2002.
In addition to overseeing the food, beverage and special events at Blackwolf Run, Chef Smitala also spends time in The Kitchens of Kohler, located in The Shops at Woodlake Kohler, teaching guests about a variety of recipes, trends and styles of cooking.
Dan Dries
Head Chef / Restaurant Manager
Whistling Straits® Restaurant
Dan began cooking at a small German-style restaurant in his hometown of Cedarburg, Wisconsin. Throughout high school, he enjoyed working at the restaurant and had his mind set on going to culinary school after graduation.
Dan attended Kendall College in Evanston, Illinois. After completing his general education requirements, he started to focus on the culinary art classes at Kendall. Dan interned at The Wisconsin Room at The American Club® in Kohler, Wisconsin, for six months. After completing another year of school, he received his associate's degree in culinary arts.
He started working full-time for a large-scale catering and food-service company in Chicago called Food For Thought. He catered for groups of people from 2 to 5000 throughout Chicago and the North Shore.
In July 2004, Dan was hired at The American Club as the banquet chef. He was a strong contributor to special events throughout Destination Kohler, including the Kohler Festival of Beer and the Kohler Food & Wine Experience, and he facilitated many team-building cooking events, cooking demonstrations and classes. Dan has cooked for the James Beard House, Kohler KBIS tradeshows, 2004 and 2010 PGA Championships, 2007 U.S. Men's Senior Open and the 2012 U.S. Women's Open. In 2012, Chef Dries took his eight years of experience at The American Club and applied it to Whistling Straits Restaurant, overlooking Lake Michigan and the world-renowned Whistling Straits golf courses. In 2014, Dan took on additional responsibilities as the restaurant manager and chef at Whistling Straits, and he is preparing for the 2015 PGA Championship and 2020 Ryder Cup.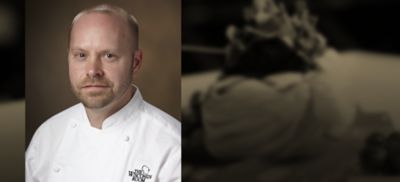 Troy Unruh
Chef
The Wisconsin Room
Trained in the kitchens of renowned chefs Mario Batali, Eric Ripert, David Bouley, Jean George Vongrichten and Marcus Samuelson, Chef Troy Unruh has more than two decades of experience working in the top restaurants in Minneapolis and New York.
Born to a Midwestern family with agricultural roots, Chef Troy learned the value of fresh produce and the importance of conservationism while working in his mother's garden. He began working in restaurants during high school and – after a short stint in construction – realized his passion for cooking would be his path forward. He earned a degree in culinary arts from St. Paul College while working a full-time position at the celebrated Goodfellows in Minneapolis, where he was introduced to his first fine dining experience.
After another defining experience in Minneapolis at Aquavit, working under James Beard Rising Star Chef award-winning Marcus Samuelson, Chef Troy decided to move to New York. Arriving with a short list of chefs with whom he wanted to cook, within 24 hours he was hired to work at the famed Jean-Georges. Chef Unruh has a combined 12 Michelin stars on his resume, working in some of the world's top restaurants. Throughout his 12-year stay in New York, he also worked in the kitchens of Danube, Le Bernadin and Del Posto.
He then moved on to become executive chef of Ellabess at the Nolitan Hotel and Zylo at the W Hotel Hoboken. While helming the stoves at Zylo, he was invited to cook "A Taste of Italy" wine dinner at the James Beard House.
Chef Troy then returned to Minneapolis, where he helped several high-profile chefs launch new restaurants and took the role of executive chef at the legendary W. A. Frost & Co. A lover of the outdoors, he began searching for a way to use his fine dining experience while enjoying a more rural lifestyle. His role of chef at The Wisconsin Room provides that unique experience, allowing him to continue the tradition of using fresh, local ingredients in a fine dining atmosphere yet quickly immerse himself in nature on days off.


Sandra Wassink
Head Chef / General Manager
River Wildlife
Sandra Wassink, restaurant manager and head chef has been instrumental in the success of River Wildlife since its inception in 1979. Sandy, as she is known, started as a kitchen assistant in her teenage years and sharpened her culinary skills by sheer talent and listening to her many followers. Sandy insists on sourcing locally grown ingredients for her weekly changing menu such as pheasant, quail and foraged wild morels to a perennial favorite, freshly caught walleye. Using both innovative and time tested techniques, her team creates inspired comfort food that highlights the best the Midwest has to offer. Open to members and resort guests only, River Wildlife is known for its outstanding countrified gourmet cuisine and is widely accepted as one of the top dining venues in the state of Wisconsin and beyond.


Thomas Hauck
Head Chef
Taverne on Woodlake

A Wisconsin native, Chef Thomas Hauck discovered his passion for cooking as a teen. His family relocated from Port Washington, Wisconsin to Georgia when he was young, where he started working in the kitchen of a local restaurant while attending school. After graduating high school, he began working in steakhouses in Roanoke, Virginia, and that's when it clicked: he wanted to attend culinary school to continue learning the business and shaping his experience and skills into a career. He attended the Culinary Institute of America and landed an externship in Washington D.C. Upon graduation, he spent a year working in Cincinnati and then moved to France for two years of eye-opening culinary experiences. When he returned to the U.S., Hauck secured a position under the late chef Richard Michel in Washington D.C.'s Citronelle, where he honed his skills for four years. In 2010, Hauck moved back to Wisconsin where he spent a year and a half working at the historical Pfister Hotel in downtown Milwaukee while planning to open his own business. In 2012, he opened c.1880 where, as chef/owner, he helped to change the face of the Walker's Point neighborhood. The restaurant's menu earned him three James Beard Foundation award semifinalist nominations for Best Chef in the Midwest in 2016, 2017 and 2018 and a yearly spot among the top restaurants in the Journal Sentinel's Top 30 list. In 2016, he purchased Karl Ratzsch in downtown Milwaukee, one of the area's oldest and last historically German restaurants. In 2018, Hauck was forced to close his beloved restaurants, but soon after earned the Culinary Director position for Lowlands Group in spring of 2018, overseeing and elevating the culinary program for eight European-style cafes in the state. In the fall of 2020, he joined Destination KOHLER as Head Chef of Taverne on Woodlake, in the Village of Kohler.
When he's not in the kitchen, Chef Thomas enjoys spending time outdoors with his wife Sara and their two young boys. An avid musician and music lover, he also tries to make time to play his growing collection of Gibson guitars.