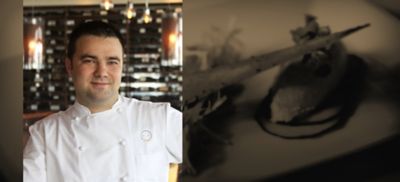 Austin Fausett
Executive Chef, Proof Restaurant
Born and raised in Horicon, Wisconsin, Fausett followed his inherent passion for cooking and earned his culinary chops in some of the most celebrated restaurants around the world. With a keen sense for hospitality and refinement, and an affinity for working with local product, Fausett helms the kitchen at Proof, a wine-centric modern American restaurant in the heart of Washington, D.C.
Fausett came to Proof from Trummer's on Main, where he served as executive chef for three years. It was during his tenure at this esteemed Clifton, Virginia, destination that he developed his culinary style and honed his eye for detail. Prior to Trummer's, Fausett worked for two years under Chef/Proprietor Patrick O'Connell at The Inn at Little Washington, serving first as chef de partie, and then as the purchasing sous chef at the acclaimed country house hotel in Washington, Virginia. During his tenure, Fausett developed a deep appreciation for and understanding of Virginia's agricultural community, working closely with the farmers who inspired him and creating American cuisine from their pristine ingredients.
Before his stretch in Virginia, Fausett spent time in the kitchens of some of the most applauded restaurants in the country including Town Hall in San Francisco and Craftbar in New York City. In order to learn more about European culinary style, he traveled to Vienna, Austria, to work under Chef Konstantin Filippou at his Michelin-starred restaurant, Novelli Bacaro con Cucina. Upon returning to the states, Austin moved to the D.C. area to serve as sous chef under Chef Cedric Maupillier at Michel Richard's Central.
Fausett's dedication to his craft has earned him numerous accolades, including a well-deserved 2015 nomination for Rising Culinary Star by the Restaurant Association of Metropolitan Washington (RAMW) and a 2014 StarChefs Rising Star Chef Award. Last year, Fausett was also named to D.C.'s first-ever Zagat 30 Under 30 list of "Rock Stars Redefining the Industry." As executive chef at Proof, Fausett honors the restaurant's modern American focus, continuing to weave Mediterranean influences into new menu items while using local ingredients as much as possible.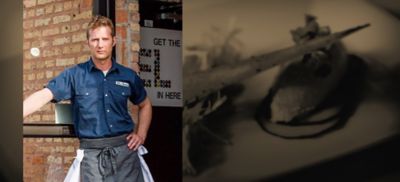 Phillip Foss
Chef and Owner, EL Ideas
Phillip Foss turns preconceived notions of elite dining upside down with his intimate restaurant hidden on a dead-end street in Chicago's Douglas Park neighborhood. The twenty-six seat dining room opens to the kitchen, and guests are invited and encouraged to visit and interact with the chefs preparing their dinner.
The relaxed atmosphere at EL downplays the precision and attention given to each course, where classical and modern cooking techniques are combined with ambitious culinary concepts. EL Ideas received its first Michelin star in 2013, received three stars from the Chicago Tribune, and was also named a CHICAGO magazine "Best New Restaurant" and Chicago Reader's "Best Restaurant of 2011."  Chef Foss has also been a James Beard Award semifinalist three years running in the category, "Best Chef, Great Lakes."
Foss began his career in his hometown of Milwaukee, Wisconsin, as a short-order cook. After graduating from The Culinary Institute of America in1991, he moved to New York City and honed his skills in New York Times four-star restaurants such as Lafayette in the Drake Swissôtel, The Quilted Giraffe, and most notably, Le Cirque Restaurant. The only culinary holdover in the move from the original Le Cirque to the second incarnation, Chef Foss had the honor of being able to cook for several presidents, countless dignitaries and celebrities, and Pope John Paul II.
Upon leaving Le Cirque, Foss began what could best be described as a nomadic culinary existence. His first stop was in Vence, France, where he fulfilled his dream of staging in a European kitchen and did so under the wings of Michelin two-star chef, Jacques Maximin. Foss returned to America as the chef of Bistrot Margot in Chicago, where he spent the next two years. From there, Foss spent the better part of a year in Brazil, and the next two years on the island of Maui at the Four Seasons, Wailea. Foss then jumped the globe and spent the next two years in Israel as the chef of the fine-dining La Regence in the King David Hotel. A quick stop at the five-diamond Newport Room in Bermuda brought Chef Foss back to Chicago, where he landed at the Lockwood Restaurant in the Palmer House. Since parting ways with the corporate structure, Foss went on to pioneer the burgeoning Chicago food truck scene with his Meatyballs Mobile. Less than a year after launching the food truck, he opened the one-of-a-kind EL Ideas in the very kitchen he had been using for the food truck.
Sean Green
Executive Pastry Chef, The Langham, Chicago and Travelle Kitchen + Bar

Award-winning Executive Pastry Chef Scott Green joined The Langham, Chicago and Travelle Kitchen + Bar from The French Pastry School, where he served as a pastry chef instructor. He holds a Bachelor of Science degree in Graphic Design from the Art Institute of California in San Francisco, and that focus carries through to what he presents to guests on the plate. "My background in art and design has completely shaped the aesthetics of my desserts," Green says. "I approach the flavors and composition of a dessert as a form of art." His work combines strong technique with seasonal ingredients for an end to a meal that is both beautiful and complementary to the courses preceding. Further expanding upon his experience as the executive pastry chef for The Langham, Chicago and Travelle Kitchen + Bar combined with his past as a pastry chef instructor, Chef Green is the author and creator of Devil's Food Kitchen, a pastry and baking blog that shares recipes, techniques and troubleshooting for amateurs and professionals alike. A seasoned pastry chef, Green's career prior to teaching spans several states and renowned establishments, including: the Four Seasons Resort in Carlsbad, California; the Park Hyatt hotel in Chicago, Illinois; Executive Caterers at Landerhaven in Cleveland, Ohio; The Mid-America Club in Chicago, Illinois; and Rolf's Pâtisserie in Lincolnwood, Illinois. After nearly a decade in the industry, Chef Green returned to his alma mater, The French Pastry School, as a chef instructor teaching in both L'Art de la Pâtisserie and L'Art du Gâteau culinary programs. Chef Green has won several awards, including the Bronze Medal in the Food Network Challenge series, Pastry Daredevils. He won the Gold Medal in Dégustation and the Gold Medal overall at the 2011 National Pastry Team Championship. In 2012, he was awarded the Gold Medal in Dégustation and Silver Medal overall at the 2012 World Pastry Championship in Las Vegas. In 2015, he was a member of the U.S. Team that achieved the Bronze Medal at the Coupe du Monde de la Pâtisserie, the world's most esteemed pastry competition, becoming the first U.S. team to reach the podium in a decade. Most recently, Chef Green was named one of the top ten pastry chefs in North America for 2016 by Dessert Professional magazine.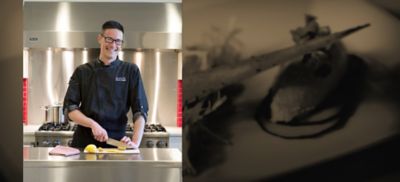 Patrick Higgins
Executive Chef, The Inns of Aurora
Patrick was executive chef of the Catering by the Family operation in Tampa, Florida, when his wife, a native of the Finger Lakes region, secretly launched a job search on his behalf. When the events coordinator received his resume, she took it straight to then-Executive Chef Greg Rhoad and urged him to pursue Patrick. It took a few phone calls and an hourlong tour, but by the end of the day Patrick was hired. The rest, as they say, is history. After three years working closely with Chef Rhoad, Patrick assumed the role of executive chef of the Aurora Inn in November of 2011. Maintaining the dining room's longstanding commitment to fresh local produce and the farm-to-table movement, Patrick works closely with local farmers. A visual artist as well as a chef, he creates stunning sculptures in ice, fruit and vegetables. Finally, along with his responsibilities as a chef and administrator, Patrick teaches all cooking classes–a teacher beloved by all. In May of 2016, the revered James Beard House in New York City honored Patrick and his accomplishments with an invitation to prepare dinner at the house with his team. As a fundraiser for the James Beard Foundation, the sold-out dinner highlighted both Patrick's culinary achievements and his commitment to highlighting the bounty of the Finger Lakes with a thoughtful, considered approach.
Rob Hurrie
Executive Chef and Owner, Black Pig
A 1994 graduate of Kendall Culinary Institute of Evanston, Illinois, Chef Rob Hurrie began his kitchen career at The American Club® in Kohler, Wisconsin. In 1997 Hurrie was appointed executive chef of Blackwolf Run®, and in 1998 Hurrie opened the kitchen at the famed Whistling Straits® golf course, while still the executive chef of Blackwolf Run.
In 1999 Hurrie stepped out on his own and opened his first restaurant, New York on 8th Deli & Gourmet Catering. Then in 2005 he opened his second restaurant, Margaux and Margaux Catering, in Sheboygan, Wisconsin. Rob is now on his third enterprise with the conversion of Margaux into the Black Pig. The Black Pig opened in March of 2013 offering patrons a relaxed and easygoing restaurant experience, featuring gourmet comfort food with a twist.  Black Pig focuses on sourcing the freshest local ingredients and preparing everything in house from scratch.
In the Fall of 2016 Hurrie expanded his business operations by renovating over 15,000 square feet of his building into his newest venture ,The Berkshire, an industrial urban loft wedding & event space.  The Berkshire is located in the same historic Montgomery Ward building as the Black Pig restaurant located in the heart of downtown Sheboygan, WI. 
Urlich Koberstein
Executive Chef, Sargento Foods
Chef of all trades Ulrich Koberstein is a culinary artist with unrivaled experiences. Chef Koberstein's credentials range from Executive Chef at Ritz Carlton Hotel Boston to Director of Culinary Arts for Kohler Co. to brand ambassador and Director of Culinary for Sargento Foods. His early passion for food as a young child in South Africa led him to studies at Le Cordon Bleu in London and the trail of unique destinations continued to Canada, Germany, Boston and Wisconsin. With a natural ability to prepare recipes in front of an audience, Chef Koberstein frequently appears on television programs most notably a recent appearance as judge for Food Network Chopped. His gracious demeanor and charming accent captivate eager culinarians of all abilities to learn and explore the culinary world.
Cooking style: Chef Ulrich Koberstein's was trained in the classical French style of cooking. Most quoted for saying "a recipe is just a guideline", Chef Koberstein urges the importance of keeping flavors pure, clean and intense as not to overwhelm the palate with a myriad of confusing flavors or spices. He has lived in several countries from Namibia, Zimbabwe, Zambia, England and the U.S. which has expanded his palate and his appreciation for cuisines around the world. Food combinations should complement each other and enhance the main ingredient to create culinary memories. He believes that a passion for food is infectious.
Kitchen Design Inspiration: Serving as the Director of Culinary Arts for Kohler Co., leading manufacturer of kitchen and bath plumbing products and owner of the world-class Destination Kohler resort, afforded Koberstein a wealth of unique talents with a culinary twist. Chef Koberstein garnered an appreciation for interior design infused by the company's passion for art and gracious living. The company created Stages – a line of restaurant inspired kitchen sinks for the home chef – designed in collaboration with Koberstein and his culinary team. As a national spokesperson for the Kitchens of Kohler restaurants and for the Kohler Co. Kitchen & Bath Plumbing Group, Koberstein provides insight into culinary artistry, entertaining, product features, and kitchen design. Additionally, he worked with his team to create a line of chocolates, Kohler Original Recipe Chocolates, which received national recognition in the February 2009 issue of O, The Oprah Magazine on the front page of "The O-List".
Chef Highlights: hosting James Beard Foundation Dinners (New York City), participating in show homes such as House Beautiful Kitchen of the Year (New York City) and Cooking Light Home (Chicago), Kitchen & Bath Industry Trade Show (Las Vegas/Chicago), cooking segments on Toll Brothers Lifestyle TV and frequent appearances on regional and national media opportunities.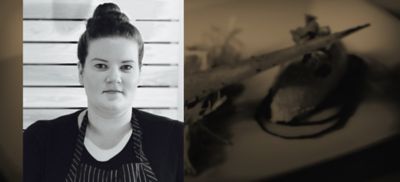 Molly Maciejewski
General Manager, Madison Sourdough
Molly Maciejewski was already on her way to earning a bachelor's in English when she discovered her true career passion—cooking. During her sophomore year in college, she got a job in the kitchen of a Spanish/Asian fusion restaurant and started her culinary career path.
After finishing her culinary studies at Moraine Park Technical College, Molly worked at The American Club® in Kohler, making pastries for The Immigrant Restaurant. Her final job there was working in the kitchen of Craverie Chocolatier Café. Molly then became an assistant chef and café manager for the John Michael Kohler Arts Center in Sheboygan.
In 2010 the owners of Madison Sourdough wanted to open a café, and they hired Molly as the executive chef. She developed the menu from scratch, incorporating the great bread and locally sourced ingredients into many of the recipes. A few years later she became general manager.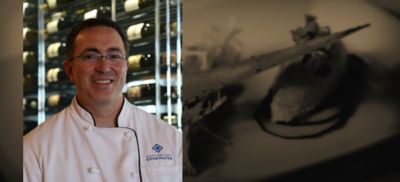 Juan Martinez
Executive Chef, The Edgewater Hotel 
Juan Martinez serves as executive chef at The Edgewater, a historic hotel in downtown Madison, Wisconsin. Martinez, a graduate of The Culinary Institute of America, oversees all culinary operations at the urban resort on the shore of beautiful Lake Mendota. Originally from East Lansing, Michigan, Martinez has honed his culinary skills at some of the country's premier hotels and restaurants, including Four Seasons Hotel Boston, The Little Nell, The Greenbrier and Tapawingo Restaurant in Northern Michigan.
Included in his purview at The Edgewater are four different restaurants: The Statehouse, the resort's flagship eatery offering incredible lake views and modern Midwestern cuisine; Augie's Tavern, a comfortable atmosphere with signature cocktails, craft beer, a curated menu of snacks and a popular Oyster Happy Hour; The Boathouse, a lakefront hot spot serving authentic Wisconsin favorites such as Chicken BLT on Stella's Spicy Cheese Bread or peel and eat shrimp to-go and The Icehouse, a casual and lively food hall offering upscale grab-and-go pizza and ice cream.
Executive Chef Martinez and his creative culinary team offer recognizable, approachable cuisine using unique ingredients and innovative cooking techniques, all while showcasing local and regional purveyors. Martinez sources Wisconsin cheese from nearby master cheesemakers, fish, poultry and beef from independent local farms and seasonal produce from Madison's world-class farmers' Market.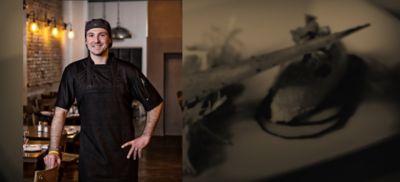 Nick Morse
Executive Chef, RYE Restaurant
Nick's passion for food blossomed at an early age, with the influence of his Father, Nick was holding down his own station in the Kitchen at Chives (Green Bay) by the age of 13. Since then, he has spent time as a Cook at the Prestigious Harbor-View Hotel on Martha's Vineyard, Kitchen Manager, in Door County, Sous Chef at Chives Restaurant, Head Chef at Bleu, De Pere and Head Chef at Rye, Appleton.
Nick's culinary philosophy and passion reflects the growing trend towards local sustainable food. Working with neighboring farmers to seek out the finest regional and local produce, is the essence of his cuisine. There is also a heavy New England presence in his cooking, with live lobster and fresh oysters delivered multiple times per week. In addition to cooking, Nick's passion is to develop junior chefs to discover their own talents in the same way he was encouraged.
Angie Rondinelli
Executive Chef, Downtown Kitchen
Since entering the restaurant industry in 2000, Angie knew she had a true passion for cooking. Aside from learning from her mom and both grandmothers, she was taken under the wing of the chef of Weissgerber's Seven Seas restaurant in Hartland. There, she was taught a lot of the basics including how to handle high volume, banquets, scheduling and inventory.
After graduating from high school, she attended Waukesha County Technical College for culinary management and moved on to work at Merrill Hills Country Club in Waukesha. She was then given the opportunity to work at The American Club® in Kohler. Over her seven-year tenure, Angie worked her way from line cook in The Wisconsin Room to The Immigrant Restaurant & Winery Bar, where she helped the restaurant achieve its 4-star award and maintain its standards of excellence, quality and exceptional guest experience. Her last two years with the company were spent as banquet sous chef, where she organized and executed three Food & Wine events as well as other special events and offsite catering.
Angie then moved to Chicago in 2013, where she spent a year working for Lettuce Entertain You at Café Ba-Ba-Reeba!, Chicago's oldest Spanish tapas bar. She learned a lot about Spanish culture and cuisine and executed all offsite catering events. She moved back to Milwaukee in 2014, taking on the role of chef de cuisine at Mason Street Grill, one of Milwaukee's premier dining destinations. There, she created menus, executed Chef's Tables and Wine Dinners. After a year and a half, she was promoted to executive chef of the restaurant.
Since August 2016, Angie has been with the Bartolotta team as executive chef of Downtown Kitchen. She creates weekly menus, organizes a large team, oversees serving over 2000 guests a day and executes large parties and events.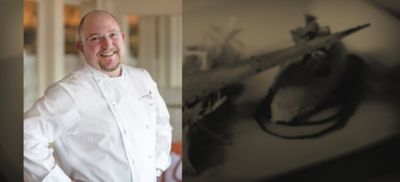 Adam Siegel
Executive Chef and Managing Partner Bartolotta Restautants
Adam Siegel, the James Beard Award-winning executive chef of Bartolotta's Lake Park Bistro and Bacchus, oversees the restaurant group's entire portfolio of restaurants as Bartolotta's executive chef.
Adam began his culinary career at a very early age, when he worked at his stepfather's restaurant in Chicago. He attended culinary school at Kendall College and received his formative training at Spiaggia under James Beard Award-winning chef, Paul Bartolotta. Paul went on to become Adam's mentor and has helped guide Adam throughout his career ever since.
Adam spent three years at Spiaggia and then moved to San Francisco to work for three years with the acclaimed Chef Julian Serrano at Masa's. A year in Italy followed, where Adam worked at the Michelin two-star Ristorante San Domenico di Imola with Chef Valentino Marcattilii. He then returned to the U.S. to help open Olives in Washington, D.C. with James Beard Award-winning chef, Todd English.
Paul Bartolotta knew Adam was the ideal choice when Lake Park Bistro was in need of a chef de cuisine in 2000, and Adam spent the next couple of years elevating his skills in the art of French cooking. Adam was named executive chef of Lake Park Bistro in January 2003 and began traveling to France when he could, to learn from chefs such as Yves Camdeborde at La Regalade, Pierre Jay at L'Ardoise and Francois Pasteau at L'Epi Dupin in Paris.
Adam's role expanded when he took over as executive chef at Bacchus in 2005. In 2008, following in his mentor's footsteps, Adam won the James Beard Award for Best Chef in the Midwest, after being nominated two years in a row for the prestigious award. He was the first Milwaukee chef to win this award in almost 15 years, bringing a tremendous amount of regional and national attention to the city and creating the spark for the culinary scene the city enjoys today.
Today, Adam is the executive chef for The Bartolotta Restaurants, playing a lead role when the company opens a new restaurant, as it did with Harbor House in 2011 and Joey Gerard's in Greendale and Mequon in 2012. And, as a managing partner of the company, Adam sits firmly at the helm of the restaurant group along with Joe and Paul Bartolotta, working each day to ensure that they're delivering the best cuisine and the best dining experiences available in Milwaukee and beyond.
When he's not in the restaurants or at the corporate office, Adam enjoys spending time with his wife and two kids.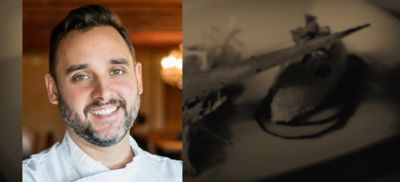 Kyle Toner
Executive Chef, Wolf Peach
As a child, Executive Chef Kyle Toner spent many evenings in the kitchen of his grandmother's home, learning to prepare beautiful meals that were shared at the family table. He loved watching the classic techniques of Jacques Pépin and Julia Child on PBS cooking shows.
He began working in restaurants while in college at Rutgers University. After a short-lived and unsuccessful stint in the front of the house as a busboy, he found himself in the kitchen and immediately knew he was home.
Kyle sharpened his skills in New York at The Spotted Pig, Rose Water and Tocqueville restaurant. He then took a position at Queen Margherita, a southern Italian trattoria in his native New Jersey, where he learned the art of the wood-burning oven from the restaurant's Neapolitan owners.
In 2012 Kyle and his wife moved to Wisconsin to be near her family, and he began working at Roots. When Wolf Peach opened later that year, he was brought on as sous chef. He was thrilled to take on the task of mastering the new 6,000-pound wood-fired oven, spearheading the pizza program. As a founding member of the culinary team, Kyle has been an integral part of the restaurant's growth and success.
Taking the helm as executive chef at Wolf Peach, Kyle is committed to approachable cooking and bringing high-quality seasonal ingredients together with attention to detail, integrity and the traditional techniques he has honed.