Cucina Italian Restaurant
Located alongside tranquil, picturesque Wood Lake, this gracious restaurant offers regional Italian cuisine simply prepared to allow natural flavors to shine through. Embracing the philosophy of the traditional Italian kitchen, the menus focus on fresh, seasonal, quality ingredients. Handcrafted pastas, artisan pizzas and wood-fire grilled entrees present fresh takes on Italian classics. It's a choice spot for an expertly grilled steak and the only restaurant in the area that offers a raw bar.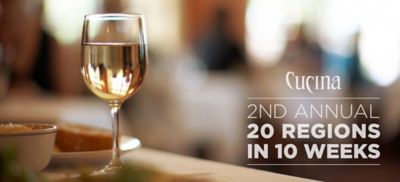 Take a culinary tour of Italy with Cucina, and discover the tastes of 20 regions in 10 weeks. Each week we'll showcase two different regions with specials from bucatini with braised oxtail to risotto with seafood. Join us and discover why Italy's known for its rich culinary traditions.
Cucina
The Shops at Woodlake
725E Woodlake Road
Kohler WI, 53044