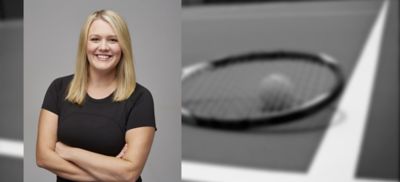 KELLY MONAHAN
Head Tennis Professional
Growing up in the small town of Cleveland, Wisconsin, just 15 miles north of Kohler, Kelly Monahan began her tennis career when she was 12 years old. Kelly followed in the footsteps of her two older brothers and began spending as much time as she could on the tennis court. She played varsity tennis all four years at Sheboygan North and enjoyed being a captain and leader for the team. She has a special connection to Kohler, because her father spent his whole 39-year career working as an engineer in the New Product/Tooling Department.
After graduating from high school, Kelly began the Professional Tennis Management (PTM) program at Ferris State University in Big Rapids, Michigan. During her college years, she stayed busy playing on the women's division II team and being a leader in her PTM program. She spent her college summers teaching at Birmingham Country Club in Birmingham, Michigan, along with two seasons at Barrington Hills Country Club in Barrington, Illinois. She graduated with her bachelor's degree in marketing/professional tennis management and began her tennis teaching career at Midtown Athletic Club in Overland Park, Kansas. Years later she moved to Michigan and began to make her mark in the Kalamazoo area. She worked for the YMCA of Greater Kalamazoo for 9 years and specialized in youth tennis. She also worked as the director of racquet sports for 8 years at Gull Lake Country Club in Richland, Michigan, where she developed the tennis, pickleball and platform tennis programs to be the largest in the surrounding area.
Kelly is energetic and enthusiastic on and off the court. She strives to help others find their passion for the game and enjoys working with all ages and levels. She is a certified pro with the USPTA and the USPTR.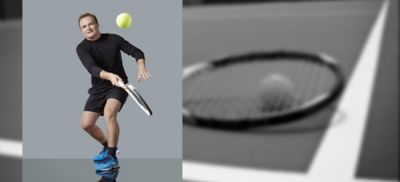 STUART NETT
Head Tennis Professional
Stuart was born and raised thirty miles west of Sheboygan in Fond du Lac, WI. He fell in love with tennis at a young age and played competitively as he grew up. After his graduation from Fond du Lac High School he accepted a tennis scholarship to NAIA Cardinal Stritch in Milwaukee, Wis.
Stuart started his career coaching high school boys and girls tennis at his alma mater. His professional teaching career began right here at Sports Core. He was the Head Men's Tennis Coach at NCAA Division III Lakeland University in 2019. He led the Muskies to having the most wins in nine seasons. Stuart also served as the Tennis Director of the Green Bay Tennis Center in De Pere, WI where he focused on developing junior programming, both recreational and competitive.
Stuart's focus for adult and youth tennis at Sports Core is to create a community. He will also work to develop fundamental technique, biomechanics, tactics, physical strength/conditioning and love for the game.
Stuart brings experience of coaching many WIAA D1 and D2 state qualifiers and of developing highly ranked junior players in the USTA ranks. He continues to learn and implement new and different teaching methods and techniques to stay ahead of the curve. He is PTR Certified and has experience speaking and presenting about Junior player development and tactics at USPTA Mini Conferences. He brings a lot of energy on court and off the court with players and members at the club.


ALEXANDRA BAYLISS
Tennis Professional
Alexandra was born and raised in Sheboygan and began playing tennis at the Sports Core when she was 3 years old. She spent countless hours on the tennis court practicing with the Sports Core tennis professionals as well as her dad and her two older brothers. Alexandra's mom drove her to hundreds of USTA tournaments which she began playing in at just 8 years old. Alexandra played high school tennis at Sheboygan North and qualified for the Division 1 State Tournament in singles all 4 years.
After high school, Alexandra continued her tennis career at UW-Whitewater where she became the most accomplished tennis player in school history. She set the all-time wins record by winning 211 matches in 4 years. Alexandra earned All American honors in singles and doubles and qualified for the Division-III NCAA Tournament 3 times. As a senior, she was the Central Region Player of the Year in singles and was ranked #13 in the nation. Her team qualified for the NCAA Tournament every year and reached the Sweet 16 in 2011 and 2013. Alexandra was elected to be a team captain and was a two-time MVP.
As well as being an experienced player, Alexandra is a USPTR certified tennis instructor. She was also the Sheboygan North Girls' Tennis assistant coach during the 2015 season and she has worked with many of the top players in this area. Furthermore, Alexandra worked as a camp counselor at the Nelson-Feller and UW-Whitewater tennis camps for 5 years. Tennis is Alexandra's passion and she is excited to share her love of the game with Sports Core members.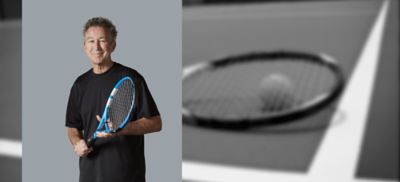 KIM EVANS
Tennis Professional
Kim has taught tennis for over 20 years—during which time he developed teaching methods that stress "fast track results" for individuals looking for immediate improvement in the level of their game. His lessons concentrate on "match play" type drills and a strategic understanding of a player's strengths/weaknesses and how to best utilize those strengths for better results. Kim has developed numerous players who have achieved great results at the WIAA and USTA levels. Two of his students made it to the finals of the WIAA state high school championships and he also had two Kohler girls, as freshmen quality for the state championships. Kim's playing background includes two years as the #1 ranked player in the Florida section in the Men's 45 Division. He also played on the Florida Inter-Sectional Team that competed against other USTA Sections in Tucson, Arizona. Kim was the Men's Varsity Coach for Fond du Lac High School for seven years as well as the men's and women's Head Varsity Coach at the University of Wisconsin-Oshkosh.

JASPER LETSON
Tennis Professional
Jasper Letson brings extensive teaching and playing background to his role as Sports Core tennis pro. While growing up in Alabama, he was one of the top-ranked junior players in the state. He attended IMG Academy—training under great coaches such as Nick Bollettieri—and then played at the University of Miami, where his team was ranked top 15 in the country every year. 
Jasper spent three years playing professional tennis before beginning his teaching career. After getting his professional teaching career started, he got the opportunity to work alongside outstanding coaches, including Steve Bellamy (founder of the Tennis Channel) at The Palisades Tennis Center. He also worked with nationally renowned coach Howard Moore at Saddlebrook, where they trained numerous top juniors and professional players.
Jasper has held coaching positions at the NCAA Division l level with Virginia Tech and Yale University. After directing junior tennis at some nationally recognized clubs, he founded Level Up Tennis Academy, which specialized in developing a pathway for juniors to play college and professional tennis. Jasper has coached more than 100 players who've played at the college or professional level.