Joey Beato
Executive Chef/Partner Community Tavern
When it comes to preparing food, Joey Beato says, "It has to be fun." Uniting a lifelong passion for the culinary arts with his spirited disposition, Chef Beato invites guests of Community Tavern to savor thoughtful cuisine set in the inviting ambiance of the Portage Park destination.
Chef Beato's love of cooking is rooted in his childhood, as he recalls making breakfast food frequently and dreaming of cooking professionally. After receiving his Associate Degree in Culinary Arts from Le Cordon Bleu Chicago, Chef Beato went on to work as sous chef of Henri (Chicago), sous chef of Green Zebra (Chicago), and sous chef of Momofuku Má Pêche (New York)–three noteworthy highlights of his culinary career.
As the executive chef and partner of Community Tavern, Chef Beato oversees all aspects of the front and back of house, managing staff and designing the menu concept, among other duties. While the task of operating a successful restaurant is hard work, Chef Beato admits, "We do it all because we have fun cooking, and creating exciting cuisine is worth it, no matter the concept. It's our job as chefs to make great food, serve the diner, and just have fun doing it." To Chef Beato, staying balanced and serving as a role model for other cooks in the industry is of the utmost importance, as he's learned from fellow chef and idol, Shawn McClain.
When not mastering the art of French-inspired cuisine or experimenting with new flavors, Chef Beato can be seen cheering on the Green Bay Packers, unabashedly listening to pop punk music, or sipping Fernet-Branca.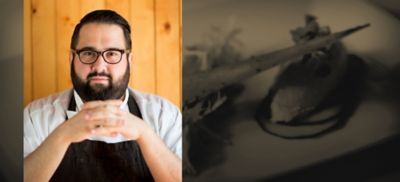 Daniel Bonanno
Executive Chef and Owner, A Pig in a Fur Coat
Born in Kenosha, Wisconsin, Daniel Bonanno grew up in an Italian household where he learned at an early age, he had a passion for food. After graduating high school, he attended Le Cordon Bleu in Minnesota. From there he interned at Grand Geneva Resort, and then he started work at Tony Mantuano's restaurant, Mangia Trattoria in Kenosha. Having a love of Italian cuisine, he decided to study abroad at Apicius Culinary School in Florence Italy. While living in Italy he worked at Michelin-rated restaurants and submerged himself in the culture. Upon returning, Dan went to the nationally acclaimed restaurant, Spiaggia in Chicago.
Wanting to use what he learned in Italy and be closer to farmers and ranchers, he opened A Pig in a Fur Coat in Madison, Wisconsin, with Bonnie Arent. Within months, A Pig in a Fur Coat was named best new restaurant, and by the end of the year, Dan was nominated for Rising Star Chef. The evolving menu is served in a lively, casual atmosphere on communal tables.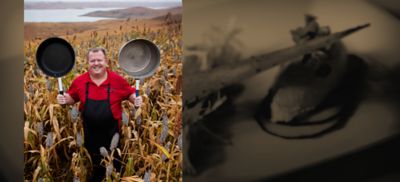 Sean Finley 
Executive Chef and Director Outside Sales, High Adventure Company
Sean has a unique and extensive background in the outdoor luxury travel and hospitality management fields, merging his passion as an outdoorsman and his experience in the hospitality industry. A graduate of Clemson University with a bachelor's degree in aquaculture, wildlife and fisheries management, Sean also attended Tennessee Technological University to earn a master's degree in fisheries management. He carries a second master's degree in hospitality management from Texas Tech University. Sean has worked as a field biologist for the fisheries and wildlife agencies of both Tennessee and Alabama and has traveled extensively in the pursuit of his outdoor passions. He currently serves as the High Adventure Company's executive chef in their Exclusive Lodge Management program, and is director of outside sales for the company. Sean is based in Indianapolis, Indiana.
Scott Green
Executive Pastry Chef, The Langham, Chicago and Travelle Kitchen + Bar
Award-winning Executive Pastry Chef Scott Green joined The Langham, Chicago and Travelle Kitchen + Bar from The French Pastry School, where he served as a pastry chef instructor. He holds a Bachelor of Science degree in Graphic Design from the Art Institute of California in San Francisco, and that focus carries through to what he presents to guests on the plate. "My background in art and design has completely shaped the aesthetics of my desserts," Green says. "I approach the flavors and composition of a dessert as a form of art." His work combines strong technique with seasonal ingredients for an end to a meal that is both beautiful and complementary to the courses preceding. Further expanding upon his experience as the executive pastry chef for The Langham, Chicago and Travelle Kitchen + Bar combined with his past as a pastry chef instructor, Chef Green is the author and creator of Devil's Food Kitchen, a pastry and baking blog that shares recipes, techniques and troubleshooting for amateurs and professionals alike. A seasoned pastry chef, Green's career prior to teaching spans several states and renowned establishments, including: the Four Seasons Resort in Carlsbad, California; the Park Hyatt hotel in Chicago, Illinois; Executive Caterers at Landerhaven in Cleveland, Ohio; The Mid-America Club in Chicago, Illinois; and Rolf's Pâtisserie in Lincolnwood, Illinois. After nearly a decade in the industry, Chef Green returned to his alma mater, The French Pastry School, as a chef instructor teaching in both L'Art de la Pâtisserie and L'Art du Gâteau culinary programs. Chef Green has won several awards, including the Bronze Medal in the Food Network Challenge series, Pastry Daredevils. He won the Gold Medal in Dégustation and the Gold Medal overall at the 2011 National Pastry Team Championship. In 2012, he was awarded the Gold Medal in Dégustation and Silver Medal overall at the 2012 World Pastry Championship in Las Vegas. In 2015, he was a member of the U.S. Team that achieved the Bronze Medal at the Coupe du Monde de la Pâtisserie, the world's most esteemed pastry competition, becoming the first U.S. team to reach the podium in a decade. Most recently, Chef Green was named one of the top ten pastry chefs in North America for 2016 by Dessert Professional magazine.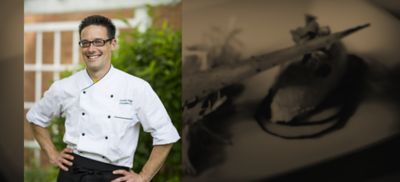 Patrick Higgins
Executive Chef, The Inns of Aurora
Patrick was executive chef of the Catering by the Family operation in Tampa, Florida, when his wife, a native of the Finger Lakes region, secretly launched a job search on his behalf. When the events coordinator received his resume, she took it straight to then-Executive Chef Greg Rhoad and urged him to pursue Patrick. It took a few phone calls and an hourlong tour, but by the end of the day Patrick was hired. The rest, as they say, is history. After three years working closely with Chef Rhoad, Patrick assumed the role of executive chef of the Aurora Inn in November of 2011. Maintaining the dining room's longstanding commitment to fresh local produce and the farm-to-table movement, Patrick works closely with local farmers. A visual artist as well as a chef, he creates stunning sculptures in ice, fruit and vegetables. Finally, along with his responsibilities as a chef and administrator, Patrick teaches all cooking classes–a teacher beloved by all. In May of 2016, the revered James Beard House in New York City honored Patrick and his accomplishments with an invitation to prepare dinner at the house with his team. As a fundraiser for the James Beard Foundation, the sold-out dinner highlighted both Patrick's culinary achievements and his commitment to highlighting the bounty of the Finger Lakes with a thoughtful, considered approach.
Rob Hurrie
Executive Chef and Owner, Black Pig
A 1994 graduate of Kendall Culinary Institute of Evanston, Illinois, Chef Rob Hurrie began his kitchen career at The American Club® in Kohler, Wisconsin. In 1997 Hurrie was appointed executive chef of Blackwolf Run®, and in 1998 Hurrie opened the kitchen at the famed Whistling Straits® golf course, while still the executive chef of Blackwolf Run.
In 1999 Hurrie stepped out on his own and opened his first restaurant, New York on 8th Deli & Gourmet Catering. Then in 2005 he opened his second restaurant, Margaux and Margaux Catering, in Sheboygan, Wisconsin. Rob is now on his third enterprise with the conversion of Margaux into the Black Pig. The Black Pig offers patrons a relaxed and easygoing restaurant experience, featuring gourmet comfort food with a twist.
Chris Mangless
Chef and Restaurateur, Three Three Five
Christopher Mangless has always done things his own way, trusting that his creativity and passion for quality would fall on the right audience. In 2005 Mangless completed his formal training at Johnson and Wales University and immediately began cooking in highly touted kitchens across the country. After his tenure in Denver, Colorado, Chef Mangless journeyed throughout the mid-west, landing back in his hometown of Green Bay, WI.
In May of 2011, Mangless unveiled Three Three Five, a private dining studio located in the historic Broadway District of Downtown Green Bay. Three Three Five started as a basecamp for The Traveling Chef. It later evolved into a private locale for parties, events, and intimate concerts where Mangless strikes a balance between catering to the whims of his guests while fulfilling his vision of what their experience should be. Over the years Mangless has been fortunate to have the opportunity to colaborate with grammy wining musicians, politicians, and clientele from around the world in creating experiential events. Mangless's passion for innovation has established him as a trusted leader in the community, as well as a chef consultant for many global companies. Always redefining what is possible, Mangless relies on his team talented chefs, artists, creative craftsmen and sophisticated event designers, to consistently deliver a flawless departure form the ordinary.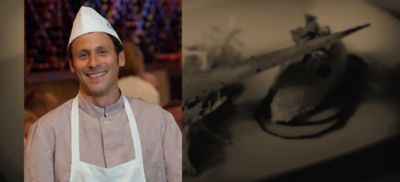 Stefano Viglietti
Chef and Owner, Trattoria Stefano, Il Ritrovo, Field to Fork, and The Duke of Devon 
Stefano Viglietti is a self-taught chef who owns and operates four restaurants with his wife, Whitney, in Sheboygan, Wisconsin. Trattoria Stefano, a regional Italian trattoria, opened in 1994 followed by Il Ritrovo, a certified Neapolitan pizzeria in 2000. Both have been featured in FOOD & WINE, Madison Magazine, Wisconsin Trails, Milwaukee Magazine, Bon Appétit and Chicago Sun-Times.
In 2005 Stefano opened Field to Fork, a combination café and grocery featuring local and organic meats and produce. Field to Fork was featured in SAVEUR and The New York Times Magazine online.
The Duke of Devon, a true English gastropub, opened in 2006. Stefano operates this with his sister, Emily, and they received a three-and-a-half star rating in the Milwaukee Journal Sentinel.
Stefano has provided outstanding learning experiences for his employees through sponsored trips to Italy, helping to expand knowledge and appreciation for authentic Italian cuisine. He is passionate about educating and instilling a love for quality in customers and staff. Local and organic meats and produce are used in all four establishments.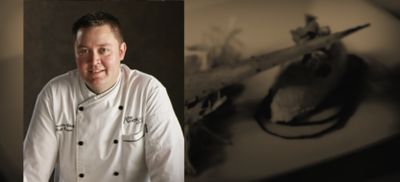 Matthew Bauer
Food and Beverage Manager / Executive Chef, The American Club  
Chef Matt Bauer was born and raised in Kohler, Wisconsin. Matt developed his love and passion for cooking at a very young age. When asked in kindergarten to draw a picture of what he wanted to be when he grew up, Chef Bauer drew himself cooking in the kitchen with a tall white hat on his head. It's almost as if it was meant to be.
Matt got into the workforce at age 15 as a steward at Cucina, the Italian restaurant of Destination Kohler. He worked through the kitchen ranks to become a lead cook by the time he graduated from high school. It was then he knew that his future would be culinary school, but where? Cucina's chef at the time was a graduate of the California Culinary Academy, so after a few letters of recommendation, Matt was off to the CCA in San Francisco, where he completed his Culinary Arts degree in 2003.
Before returning back home to Kohler, Matt needed to complete an externship in order to graduate. He decided after much thought to travel to one of his ultimate vacation destinations, Honolulu, Hawaii. There he worked at a private restaurant, 3660 on the Rise, which featured Pacific Rim and island cuisine.
Matt then traveled back home to Kohler, and The American Club family, to become a lead cook at The Immigrant Restaurant & Winery Bar. He worked his way through the ranks for almost eight years before becoming head chef in April 2011. His goal was to make The Immigrant Restaurant one of the top dining options in the Midwest, utilizing seasonal, fresh ingredients from all over the country and featuring what he considered to be modern, global cuisine. Matt challenged himself a few short years later to take over The Immigrant Restaurant as the Chef/Restaurant Manager, directing both front- and back-of-house operations.
Today Matt has hit a milestone in his career as the Food and Beverage Manager/Executive Chef of The American Club. He ensures that five-star services are provided to all guests enjoying The Immigrant Restaurant, The Wisconsin Room, The Horse & Plow, The Greenhouse, In-room dining services and The American Club banquets.
Ulrich J. Koberstein
Director of Culinary, Sargento Foods
Chef of all trades Ulrich Koberstein is a culinary artist with unrivaled experiences. Chef Koberstein's credentials range from Executive Chef at Ritz Carlton Hotel Boston to Director of Culinary Arts for Kohler Co. to brand ambassador and Director of Culinary for Sargento Foods. His early passion for food as a young child in South Africa led him to studies at Le Cordon Bleu in London and the trail of unique destinations continued to Canada, Germany, Boston and Wisconsin. With a natural ability to prepare recipes in front of an audience, Chef Koberstein frequently appears on television programs most notably a recent appearance as judge for Food Network Chopped. His gracious demeanor and charming accent captivate eager culinarians of all abilities to learn and explore the culinary world.
Cooking style: Chef Ulrich Koberstein's was trained in the classical French style of cooking. Most quoted for saying "a recipe is just a guideline", Chef Koberstein urges the importance of keeping flavors pure, clean and intense as not to overwhelm the palate with a myriad of confusing flavors or spices. He has lived in several countries from Namibia, Zimbabwe, Zambia, England and the U.S. which has expanded his palate and his appreciation for cuisines around the world. Food combinations should complement each other and enhance the main ingredient to create culinary memories. He believes that a passion for food is infectious.
Kitchen Design Inspiration: Serving as the Director of Culinary Arts for Kohler Co., leading manufacturer of kitchen and bath plumbing products and owner of the world-class Destination Kohler resort, afforded Koberstein a wealth of unique talents with a culinary twist. Chef Koberstein garnered an appreciation for interior design infused by the company's passion for art and gracious living. The company created Stages – a line of restaurant inspired kitchen sinks for the home chef – designed in collaboration with Koberstein and his culinary team. As a national spokesperson for the Kitchens of Kohler restaurants and for the Kohler Co. Kitchen & Bath Plumbing Group, Koberstein provides insight into culinary artistry, entertaining, product features, and kitchen design. Additionally, he worked with his team to create a line of chocolates, Kohler Original Recipe Chocolates, which received national recognition in the February 2009 issue of O, The Oprah Magazine on the front page of "The O-List".
 
Chef Highlights: hosting James Beard Foundation Dinners (New York City), participating in show homes such as House Beautiful Kitchen of the Year (New York City) and Cooking Light Home (Chicago), Kitchen & Bath Industry Trade Show (Las Vegas/Chicago), cooking segments on Toll Brothers Lifestyle TV and frequent appearances on regional and national media opportunities.